At the weekend I met up with my friends from university. Just three of them. My cheerleading girls. That I've known for six years. Yep, six years, and y'know it was like no time had passed at all.
When you leave school to go to University, you find out who your close school friends are, they're the ones that you still keep in touch with despite being miles apart, that you always meet up with when you go back home, the ones that you cry with happiness when you watch them get married. It's the same when you leave Uni. You find out who your close friends are, and these girls – I know that we'll always be meeting up, catching up and reminiscing about Uni days.
Such occasions call for cake. Flourless, gluten free cake because one of said girls can't quite stomach the real deal. As it's only 2 and a bit weeks to Christmas, I was feeling festive, so when I saw the Nigella flourless almond and apple cake, I adapted it to the season.
The sweetness of the cranberries against the citrus of the orange works so well. And despite this cake having zero flour and zero butter, the cake tastes so light and buttery, and was just the perfect amount of yumminess with a cup of tea in the afternoon. Plus it has fruit and no flour or butter so it's practically good for you, right?!
Ingredients
325g ground almonds
200g caster sugar
8 large eggs
150g fresh cranberries
Juice of 1 large orange
25g flaked almonds
Icing sugar, to dust
Method
Preheat the oven to 180c (fan assisted) and grease (with oil) and line a 20cm round baking tin.
In a food processor, blitz together the ground almonds, eggs, sugar and juice of the orange until well combined.
Gently fold in the fresh cranberries and then pour into the cake tin, spreading over the top to even out.
Sprinkle the top with flaked almonds and bake for 40-45 minutes, checking after about 30 as all ovens vary.
Leave to cool in the tin for around 10-15 minutes, then remove tin and leave to cool on a wire rack.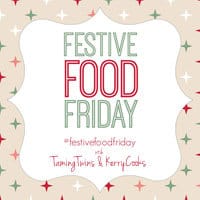 at
TamingTwins
and
KerryCooks